BALLOON TWISTING
Balloon twisting is a great add on to a party package. Butterflies, swords, hats, shields, animals etc. Combined with face painting it covers all aspects of a great party!!! Or even a whole party of balloon twisting, its your choice - you design your perfect party or event to your own needs.
When combined with other packages for two hour bookings, the time needs to be split between half painting /half balloons. Also the numbers need to be 15ish or we wont have time to provide both to your guests. Alternatively, add on another hour or ask for two artists, One providing face painting, one providing balloon twisitng? Want to keep the whole party to face painting and glitter tattoos and STILL have balloons. No problem. I can always make a whole load of balloons to bring to the party for you to hand out along with the party bags. I have different price options available so just call me or email me for a chat!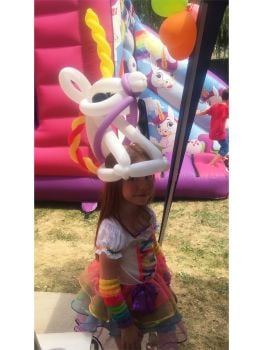 Birthday children also receive a large balloon model
with every party and we can make something to fit in
with the theme (these models take 4 times as long as
party style balloons so arent available for line work).
Due to safety provisions, balloons are not suitable for
infants under the age of 3 years.